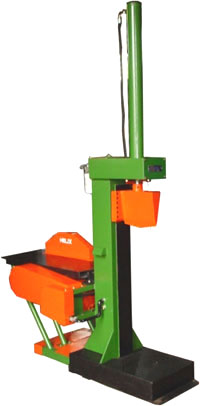 Heavy construction with imported Heavy Duty Double Acting Cylinder (ISO 9002) manufactured in Singaporewith American Cylinder parts and "PARKER" American seals.
Works with a standard 7.5 HP (5.5 KW), 4 pole Motor (I.P. 55 Class F Insulated) coupled with a flexible coupling.
Develops a 12.5 ton pressure.
Hardened special steel wedge provided, which is easily replaceable.
"Helix" Wood Splitter is fitted with a correctly designed external Hydraulic Oil Filter to provide a longer life span for the Hydraulic parts.
The Hydraulic Pump, which is the most important part of this machine, is a specially imported Heavy Duty Gear type "PARKER HANNIFIN' from America, which could be used with local Hydraulic oil.
Oil level Indicator.
Imported Directional Control Valve is "WALVOIL' from Italy, provided with Safety Auto Pressure Cut-out and external safety lever.
Heavy Duty Star Delta fully automatic Starter will be supplied with the machine, for which spare parts are freely available.
All Hydraulic Hoses are heavy duty designed for 3,500 PSI.
Log diameter can be any size, but splitting to be started from one side (necessary) demonstrations will be carried out).
Maximum Splitting length 1020 mm.
Maximum Pressure is 3000 PSI.
RAM Speed up and down 15 seconds, one way.
Easy installation – No Foundation Bolts required.
N.C. Spray painted and highly polished.
Two years Guarantee for Hydraulic components



Also available with Circular Saw Attachment : The Circular Saw attachment comprises a 24" diameter high quality cross-cut Saw Blade, Rotor Shaft mounted on self-aligning type Ball Bearings and the unit attached to the Log Splitter main frame, driven by the Log Splitter motor through V-Belts, thus facilitating the operation of sawing the logs and splitting them at the same location. Optional (Special) We have now designed a self–lubricator to avoid manual oil lubricating of the Wedge Guide, thereby reducing the wear and tear of the Guide.
OUR VISION
OUR MISSION
TELEPHONE
To be the Leader in providing innovative engineering solutions to satisfy customer requirements.
To provide a superior service to delight the custo mer, by upgrading technologies
(+94) (0) 114 713 533
(+94) (0) 112 681 709